Popular Science Magazine subscription - Save up to 20%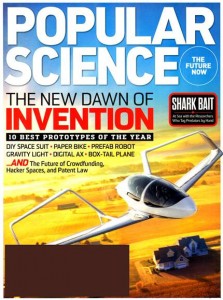 Popular Science Magazine focuses clearly on emerging trends, bringing invaluable insight into the latest developments in technology 12 times per year.
This monthly magazine explores a wide range of scientific topics, including electronics, communications, cars, tools, aviation, astronomy, space exploration, energy, and more. Written in simple language, and complete with photos and illustrations, this publication is read by experts and novices alike.
If you're looking to the get latest news and information about latest technology and scientific advancements all under one cover once per month, Popular Science could be ideal for you.
Issues per year: 12
Publishing frequency: Monthly
First published: 1872
Publisher: Bonnier Corporation

↓ Don't miss out on a chance to save up to 20% on a Popular Science Magazine subscription. ↓

include('rand-text.php'); ?> Popular Science Magazine

Looking for another science magazine? See our Top 10 List or view all current deals.