Popular Mechanics Magazine subscription - Save up to 78%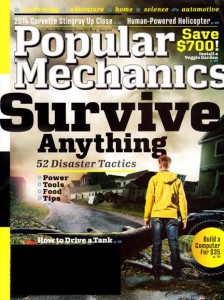 Popular Mechanics Magazine is designed to be an invaluable resource for do-it-yourselfers of all levels – from apprentice to master, from veteran handyman to complete newcomer.
This leading science magazine features easy-to-understand how-to articles on a large range of topics, including electronics, woodworking, home improvement, science, technology, automotive repair and more.
Readers of Popular Mechanics get the opportunity to learn valuable do-it-yourself methods, complete with clear illustrations and in-depth advice.
Issues per year: 10
Publishing frequency: Monthly
First published: 1902
Publisher: Hearst Magazines

↓ Don't miss out on a chance to save up to 78% on a Popular Mechanics Magazine subscription. ↓

Discounts on Science and Nature Magazines: Popular Mechanics Magazine

Looking for another science magazine? See our Top 10 List or view all current deals.